Seleziona un'opzione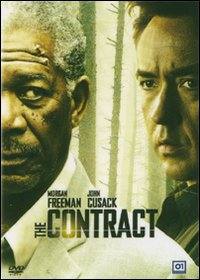 Titolo Originale: THE CONTRACT
Durata
: h 1.36
Nazionalità
:
Germania
,
USA
2006
Genere
:
drammatico
Al cinema nel Febbraio
2006
•
Altri film di Bruce Beresford
Trama del film The contract
Frank Carden, assassino addestrato dal governo e ora "libero professionista", viene arrestato da un ordinario poliziotto di una cittadina dello stato di Washington. Gli agenti federali lo prendono in custodia per portarlo alla vicina metropoli, ma vengono attaccati, su una strada di montagna, da un gruppo affiliato a Carden. Questi riesce a fuggire, solo per finire per˛ tra le manette di Ray Keene, un ex poliziotto ora insegnante che attraversava i boschi col figlio teenager ribelle.

Sei un blogger? Copia la scheda del film
| | | | |
| --- | --- | --- | --- |
| Voto Visitatori: | 5,46 / 10 (41 voti) | | Grafico |
Segnalazione Errori nella scheda THE CONTRACT
Se hai trovato uno o più errori nella scheda del film THE CONTRACT segnalacelo usando questo modulo; aiuterai così Filmscoop.it a essere sempre aggiornato ;-)
I trailer vengono visualizzati tramite Adobe Flash. Prima di segnalare il malfunzionamento di un trailer assicurati di avere installato l'ultima versione di Adobe Flash Player. Puoi scaricarla dal sito Adobe.
Non utilizzare questo servizio per segnalare voti scorretti, per quello esiste già un'apposita discussione nel forum
Tutti i campi sono obbligatori.
I dati che vengono inseriti in automatico sono gli stessi utilizzati nella registrazione al forum.
Li puoi vedere nel tuo profilo del forum