survival of the dead - l'isola dei sopravvissuti regia di George A. Romero USA 2009


NEWS
Seleziona un'opzione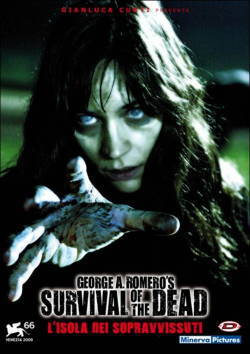 Titolo Originale: SURVIVAL OF THE DEAD
Durata
: h 1.30
Nazionalità
:
USA
2009
Genere
:
horror
Al cinema nel Luglio
2010
•
Altri film di George A. Romero
Trama del film Survival of the dead - l'isola dei sopravvissuti
In una piccola isola al largo delle coste del Nord America i morti risorgono per aggredire i vivi. Gli abitanti dell'isola non riescono a uccidere i loro cari defunti, nonostante questi minaccino la loro incolumitÓ. Solo uno di loro si ribella per uccidere gli zombie, ma viene bandito dall'isola. Sulla terraferma l'uomo si unisce a una piccola banda di sopravvissuti in cerca di un luogo sicuro dove vivere in pace. Il gruppo si impossessa di un traghetto infestato di zombi e fa ritorno all'isola dove scopre che i locali hanno rinchiuso gli zombi dentro le loro case...

Sei un blogger? Copia la scheda del film
Voto Visitatori:
5,18 / 10 (66 voti)
Grafico
Voto Recensore:
8,00 / 10


Voti e commenti su Survival of the dead - l'isola dei sopravvissuti, 66 opinioni inserite

---



Commenti:
Tutti
|


|
Con risposte
|
Con nuove risposte dall'ultima visita
|
Con risposte di oggi
---
---