snoop dogg's hood of horror regia di Stacy Title Usa 2006


NEWS
Seleziona un'opzione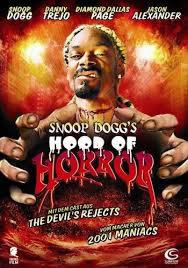 Titolo Originale: HOOD OF HORROR
Durata
: h 1.24
Nazionalità
:
Usa
2006
Genere
:
horror
Al cinema nel Dicembre
2007
•
Altri film di Stacy Title
Trama del film Snoop dogg's hood of horror
Snoop Dogg è il narratore di tre storie. La prima vede come protagonista Posie, una valida artista di strada che ha visto uccidere la madre davanti ai suoi occhi e decide di combattere i criminali del suo quartiere. Le è stato conferito il potere di uccidere a distanza. Nella seconda Tex Jr. è un ragazzo ricco e senza scrupoli che, dopo aver ucciso il padre militare ed averne ereditato una casa, si mette ad eliminare i reduci di guerra che lui vi aveva ospitato. Nella terza seguiamo le vicende di Sod, un rapper che, pur di raggiungere il successo è disposto a tutto.

Sei un blogger? Copia la scheda del film
Invita un amico al cinema
Vuoi inviatare un amico al cinema con te per vedere SNOOP DOGG'S HOOD OF HORROR? Vuoi segnalare SNOOP DOGG'S HOOD OF HORROR ad un amico?
Compila questo modulo ed premi il tasto INVIA, lo faremo noi per te!