Seleziona un'opzione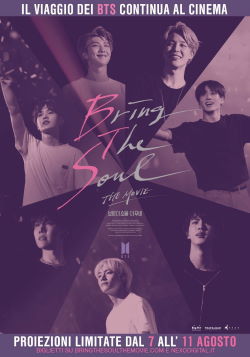 Titolo Originale: BRING THE SOUL: THE MOVIE
Durata
: h 1.45
Nazionalità
:
Corea del Sud
2019
Genere
:
documentario
Al cinema nell'Agosto
2019
•
Altri film di Park Jun-soo
Trama del film Bring the soul: the movie
Il documentario mostra la boyband sudcoreana dei "Bring The Soul" alla fine del loro tour "LOVE YOURSELF" in Europa, dove le icone globali hanno tenuto 24 concerti in 12 cittÓ. Da Seoul a Parigi, il tour Ŕ stato un tripudio di energia e passione. Il giorno dopo l'ultimo concerto di Parigi, sul tetto della cittÓ, i ragazzi hanno dato vita a un after-party in cui hanno condiviso le loro storie come mai accaduto prima

Sei un blogger? Copia la scheda del film
Segnalazione Errori nella scheda BRING THE SOUL: THE MOVIE
Se hai trovato uno o più errori nella scheda del film BRING THE SOUL: THE MOVIE segnalacelo usando questo modulo; aiuterai così Filmscoop.it a essere sempre aggiornato ;-)
I trailer vengono visualizzati tramite Adobe Flash. Prima di segnalare il malfunzionamento di un trailer assicurati di avere installato l'ultima versione di Adobe Flash Player. Puoi scaricarla dal sito Adobe.
Non utilizzare questo servizio per segnalare voti scorretti, per quello esiste già un'apposita discussione nel forum
Tutti i campi sono obbligatori.
I dati che vengono inseriti in automatico sono gli stessi utilizzati nella registrazione al forum.
Li puoi vedere nel tuo profilo del forum