the woman in the fifth regia di Pawel Pawlikowski Polonia, Francia, Gran Bretagna 2011


NEWS
Seleziona un'opzione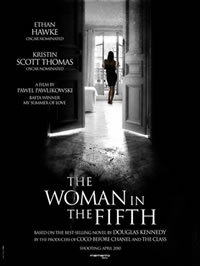 Titolo Originale: LE FEMME DU CINQUIÈME
Durata
: h 1.23
Nazionalità
:
Polonia
,
Francia
,
Gran Bretagna
2011
Genere
:
thriller
Tratto dal libro "
Margit
" di
Douglas Kennedy
Al cinema nel Novembre
2011
•
Altri film di Pawel Pawlikowski
Trama del film The woman in the fifth
Dopo aver divorziato dalla moglie e perso il lavoro all'università, lo scrittore americano Tom Ricks si trasferisce a Parigi per stare più vicino alla figlia Chloé. Senza un soldo, accetta di lavorare di notte per conto di un piccolo boss ma l'occupazione gli lascia molto tempo libero da poter occupare scrivendo qualcosa da dedicare alla figlia. Il proposito però viene messo da parte quando nella sua vita entra la misteriosa Margit, una vedova dell'Est con cui inizia un'anomala relazione che prevede solo due incontri a settimana in casa della donna, sempre allo stesso orario e con l'obbligo di non chiederle nulla sulla sua vita passata. Improvvisamente però intorno a Tom sembra calare una forza oscura...

Sei un blogger? Copia la scheda del film
Voto Visitatori:
5,75 / 10 (4 voti)
Grafico
Voto Recensore:
7,00 / 10
Invita un amico al cinema
Vuoi inviatare un amico al cinema con te per vedere THE WOMAN IN THE FIFTH? Vuoi segnalare THE WOMAN IN THE FIFTH ad un amico?
Compila questo modulo ed premi il tasto INVIA, lo faremo noi per te!