the mirror and the rascal regia di Valerio de Filippis Italia 2019


NEWS
Seleziona un'opzione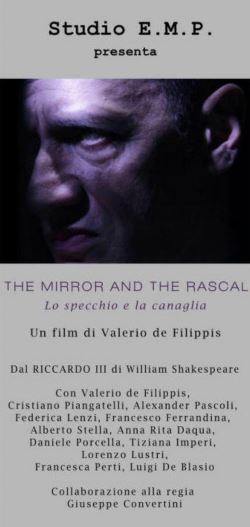 Titolo Originale: THE MIRROR AND THE RASCAL
Durata
: -
Nazionalità
:
Italia
2019
Genere
:
drammatico
Al cinema nel Giugno
2019
•
Altri film di Valerio de Filippis
Trama del film The mirror and the rascal
Il film Ŕ una rivisitazione surreale e perturbante di un grande classico, la tragedia Riccardo III di William Shakespeare. Racconta la storia del delirio, provocato dal potere contemporaneo, in una rilettura d'autore tra cinema, videoarte e musica. Il protagonista, Riccardo Duca di Gloucester, fratello del Re Edoardo IV, attraverso una lunga serie di delitti elimina qualsiasi ostacolo si frapponga tra lui e il trono d'Inghilterra.

Sei un blogger? Copia la scheda del film
Nessuno ha ancora votato e commentato
THE MIRROR AND THE RASCAL
---
Commenti:
Tutti
|


|
Con risposte
|
Con nuove risposte dall'ultima visita
|
Con risposte di oggi
---